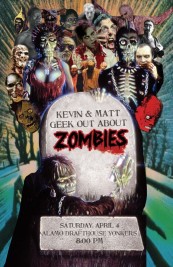 A two-hour feast of zombie film footage and pop culture commentary.
Comedian Kevin Maher and filmmaker Matt Glasson present an obsessive look at zombies, from White Zombie to World War Z. The hosts explore pre-Romero voodoo zombies, Night of the Living Dead rip-offs, the recurring theme of Nazi Zombies in film, and the recent run of zombies overtaking pop culture. The two-hour show features dozens of clips including zombie film highlights from Italian, Asian, British and Mexican filmmakers.
WIT SPECIAL GUEST PRESENTATIONS BY:
Heather Buckley (Fangoria, Dread Central) presents DAY OF THE DEAD as a David Mamet movie.
Brian Solomon (The Vault of Horror) interprets Catholicism by way of Italian zombie cinema
Daan Van Versendaal (The Netherlands Institute of Neuroscience) explores the science of zombies
Doug Sakmann (Special FX Artist) and Captain Cruella (Village Invasion Zombie Crawl) share photos and stories from producing zombie crawls.
Plus trivia prizes and zombie snack foods!
Kevin and Matt are excited to bring their humorous, terrifying, quite unforgettable video variety show to Nitehawk Cinema. From casual filmgoers to die-hard zombie fanatics, it's an evening of guaranteed zombie fun for everyone!