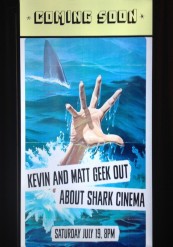 One of the most popular editions of the KGO series is this tribute to Shark Movies, co-hosted by filmmaker Matt Glasson.
Kevin and Matt have brought their humorous, terrifying, quite unforgettable video variety show around the country, appearing at JAWSfest in Martha's Vineyard, Boston's Geek Week, Brooklyn's Morbid Anatomy Museum, the Alamo Drafthouse and the 92Y Tribeca.
The hosts take an obsessive look at dozens of classic (and some not-so-classic) movies from JAWS to SHARKNADO. The show revisits pre-JAWS films, JAWS rip-offs, sanctioned sequels, TV documentaries, CGI monster movies and a hit TV show that literally jumped the shark.
PLUS:
Gratuitous shark scenes in non-Shark movies.
An Italian JAWS that Universal banned from the U.S.
The inevitable JAWS-inspired mermaid porno: GUMS.
Incredible scenes of sharks fighting zombies, superheroes, giant apes, Jackie Chan, Burt Reynolds, Samuel L. Jackson, the Olsen Twins and, of course, the Harlem Globetrotters.
The hit TV show that literally jumped the shark.
SPECIAL GUESTS INCLUDED:
Stuart Wellington (of The Flophouse Podcast) on the JAWS NES video game.
Cartoonist Karen Sneider presenting original shark comic art