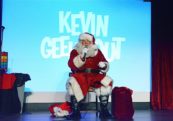 Glen Heroy is Santa Claus in…
I, SANTA
(Confessions From Behind the Beard)
Directed by Kevin Maher
LIC bar, 45-58 Vernon Blvd
Long Island City, Queens
***ONE NIGHT ONLY*** December 28th @ 8:00pm
$10 (suggested donation) and a 2-drink minimum
In this one-of-a-kind solo performance, Glen Heroy appears as Santa for an intimate evening of strange-but-true stories about playing St. Nick. His real-life anecdotes range from hilarious to heartbreaking, capturing the best and worst of the holidays, as seen from the photo-op throne of Santa Claus.
Taking an "Ask Me Anything" approach, Glen fields questions from the crowd and provides unforgettable answers. Previous performances have included accounts of:
• Playing Santa for the Trump family Christmas Party
• Setting a record at Macy's for most photo-sessions in one sitting (1,000 kids in 3 hours)
• Being farted on by a super-model
• Getting abandoned in his sleigh at a tree-lighting ceremony
• Listening to toddlers explain 9/11 to Santa
• Secrets from the Santa Online Chat-room
• Getting doused with gallons of eggnog for the Comedy Central Christmas card
• And much more
America needs Santa more than ever. Don't miss this one-night-only performance.
…
ABOUT GLEN HEROY
Glen Heroy has portrayed Santa Claus in and around NYC for 35 years including 12 years at Macy's Santaland in Herald Square, was the Santa for Hess in their annual Hess Truck commercial, and in a video with RuPaul's Drag Race winner Bob the Dragqueen. Glen has been featured in the Wall Street Journal, seen in Soap Opera Digest, and mentioned in David Sedaris' Santaland Diaries.