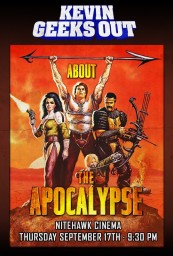 ** PART OF THE BROOKLYN BOOK FESTIVAL **
Comedian Kevin Maher presents an obsessive look at life beyond the brink in KEVIN GEEKS OUT ABOUT THE APOCALYPSE.
In this special edition of Kevin Maher's comedy-variety show, the host teams up with Freebird Books (home to NY's only post-apocalyptic-themed book club) for an obsessive look at end-of-the-world scenarios across page and screen.
Featuring rare film clips, trivia prizes and a post-apocalyptic costume contest.
The 2-hour multi-media event will include presentations on renowned visions of a dark future and obscure examples of wasteland stories.
GUESTS INCLUDE:
Emily Asher-Perrin (Tor.com) on Dogs of the Apocalypse
Peter Miller (Founder of The Post-Apocalyptic Book Club) compares and contrasts the 3 adaptations of I AM LEGEND
Tenebrous Kate (cult movie blogger/founder of the Heretical Sexts zines) looks at sex in the apocalypse
Matt Glasson (Editor, Filmmaker) shares his favorite Italian Mad Max/Escape from New York rip-off
Nathaniel Wharton (SportsAlcohol.com) presents "A Child's Apocalypse"
Plus: haunting visions of the future from Wes Craven and Nostradamus
This show was an Official Brooklyn Book Festival Bookend Event.
EXCERPT: Lessons learned from THE NEW BARBARIANS
https://vimeo.com/62569044