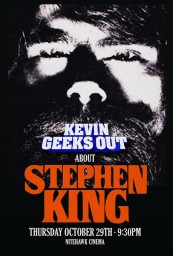 In this pre-Halloween edition of Kevin Maher's comedy-variety show, Kevin and guests obsess over Stephen King stories. Especially the scary ones. The evening covers 40 years of film and TV projects, with close readings of the famous and infamous Stephen King adaptations: the good, the bad, the good-bad and the bad-bad.
SPECIAL GUESTS INCLUDE:
Jenn Wexler (Producer, Glass Eye Pix) comparing the two film versions of CARRIE
Ritch Duncan (author, The Werewolf's Guide to Life) looks at Silver Bullet and the influence of Stephen King
Caroline Symons (writer, Susan Vaginahands: Attorney at Law) digs into MISERY
Matt Glasson (Editor, Filmmaker) shares the lessons learned from CREEPSHOW
Edwin Samuelson (DVD/Blu-ray Special Features producer) celebrates King's killer-car story CHRISTINE
Jon Abrams (Editor-in-Chief, DAILY GRINDHOUSE) zeroes in on fashion of Stephen King movies
Host Kevin Maher looks at water-as-memory in IT
PLUS: The Stephen King Echo Chamber, Stephen King movie posters from around the world, Dummy Deaths in Stephen King films and more!