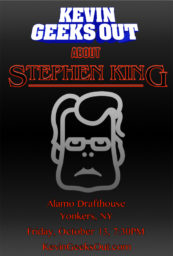 Kevin Geeks Out returns to Yonkers, to go bonkers over Stephen King.
A celebration of the horror master on Friday the 13th (in October!)
The 100-minute video variety show will feature dozens of clips and four excellent guest presenters.
See why SyFy.com called Kevin an "insane genius" and Daily Grindhouse called the show "like TED Talks for Midnight Movies."
with special guests:
Jon Abrams (Editor-in-Chief, DailyGrindhouse.com)
Heather Buckley (producer, Red Shirt Pictures, writer, FANGORIA)
John Cribbs (Head Writer, ThePinkSmoke.com)
Emily Intravia (co-host, The Feminine Critique podcast)
note: This show will feature some material from the 2015 KGO: Stephen King show.