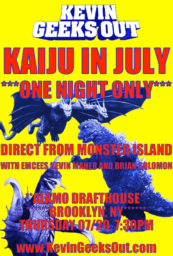 With co-host Brian Solomon (author of the new book GODZILLA FAQ: All That's Left To Know About The King Of The Monsters)
The two hour show features rare clips featuring everything from fan favorite kaiju to obscure creatures, with appearances by smog monsters, flying turtles, giant bird-beasts and more. With footage you won't find on Netflix, Hulu or YouTube.
Daily Grindhouse called KEVIN GEEKS OUT "like TED Talks for Midnight Movies."
With special guests:
Sonya Moore (scripter/translator for Korean webcomics at Spottoon)
Joe Dator (Cartoonist for The New Yorker)
Marc Walkow (Japanese film historian)
Jon Abrams (Editor-in-Chief DAILY GRINDHOUSE)
and Nathaniel Wharton (writer, SportsAlcohol.com)
One night only!
Thursday July 20th @ 7:30pm
at the Alamo Drafthouse in Downtown Brooklyn.