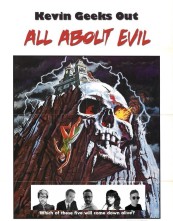 Evil clowns, evil computers, evil rock bands – they're all in this variety show hosted by comedian Kevin Maher. The evil evening includes dozens of clips featuring some of cinema's strangest super-villains, including: killer cars, devil dogs, creepy children, a murdering mattress and much more.
Kevin Geeks Out is a live video variety show that obsesses over some of the greatest topics in pop culture. The event brings together rare videos, guest experts and trivia prizes. Since 2008, Kevin has geeked out with 26 different shows, including Bigfoot, Robots, Video Games, Frankenstein, Dummy Deaths and Visions of the Future.
HOSTED BY COMEDIAN KEVIN MAHER, WITH SPECIAL GUESTS:
International Clown Matt Wilson on Evil Clowns
Cult movie blogger Tenebrous Kate on Evil Rock Bands
Filmmaker Matthew Glasson on evil slugs and bugs
Variety Show Host Tom Blunt on Doom Cakes
Comedian Rusty Ward on the evils of occult role-playing games
PLUS: Kevin's favorite evil ventriloquist dummy, evil children, an evil car and an 8-minute "Kindest Cut" of the TV movie DEVIL DOG.