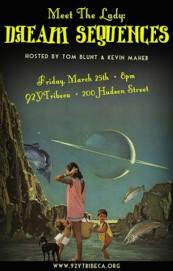 FULL DISCLOSURE: Kevin was invited to co-produce a MEET THE LADY show with the always-excellent Tom Blunt. Technically a MEET THE LADY show. Spiritually, a Kevin Geeks Out show.
This video variety show featured film clips, guest speakers, performers, and much more, including:
Women's weirdest dream sequences (in films that range from the obvious to the obscure.)
Tenebrous Kate looks at dreams from Italian giallo films
Classical Harpist Riza Printup
John Epperson (as seen in Black Swan!)
Presentation by burlesque dancer Iris Explosion
Free Snacks by "The Food Daddy" Cas Marino
Joe's Pub cabaret star ("The Shells Show") Roslyn Hart
Black Phoenix Alchemy Lab donated "Somnium" fragrance samples. Each one is meant to have a different effect on your dreams.