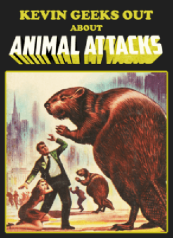 ** THE NEW YORK TIMES RECOMMENDED THE SHOW, CALLING IT "EXHAUSTIC" **
Comedian Kevin Maher presents an obsessive look at the Animal Attack genre: from recent CGI beasts to the nature-gone-wrong films of the Drive-In era. This two-hour multi-media show includes dozens of film clips featuring crazed cats, angry bears, giant spiders, Freudian snakes, killer cockroaches, a racist dog and much more.
GUESTS INCLUDED:
Jon Abrams (Editor-in-Chief, Daily Grindhouse) on chimp attacks
Wendy Mays (creator of SPACE CAT) looked at psychotic cat movies
Matt Glasson (co-host, Kevin & Matt Geek Out About Zombies) presented a history of killer bugs, from TARANTULA to PHASE IV.
Tom Blunt (film blogger and variety show host) looks at the doom cake in Alfred Hitchcock's THE BIRDS and the trope of killer bees.
Plus: Kevin hand-picked some of his favorite scenes from the genre, including: the most pretentious animal incident, best gratuitous animal attack, A-list actors doing animal attacks, and cinema's fakest reptile (hint: it's not DinoCroc).